Borax and Peroxide User Reviews  
Posted by Walter's Mama (Henderson, Nv) on 12/17/2018

When we adopted our dog Walter 4 years ago he came to us with Demodex mange. We used Ted's cure and it was a godsend, he got immediate relief from his itching and the mange eventually cleared up. Now a few years down the road he has come into contact with dog lice. I really don't want to use any of the chemical things suggested by the vet and I'm curious if anyone knows if this treatment would also work on dog lice?
---
Posted by Carlos (Sacramento, Ca) on 08/30/2018

Ok so this is Maya...she was my birthday present on July 29th 2018; About a week later she began getting rashes probably from the food change nothing new (I've had bull dogs before) gave her some Benadryl and wasn't getting any better...so gave her 2 shots of Triamcinelone to give her a boost for the allergies...it worked for a few days but also suppressed her immune system! So lo and behold demodex mange....so Ivomec .25ml of 1% Ivomec sub cutaneous and giving .4 ml po every day for probably 30 days.
Shes getting worse! So now it's Ted's remedy...I'll keep you updated🧐
Boy, what a present but it's really not a chore because she's so special and cute!
Ps. The second one is a before pic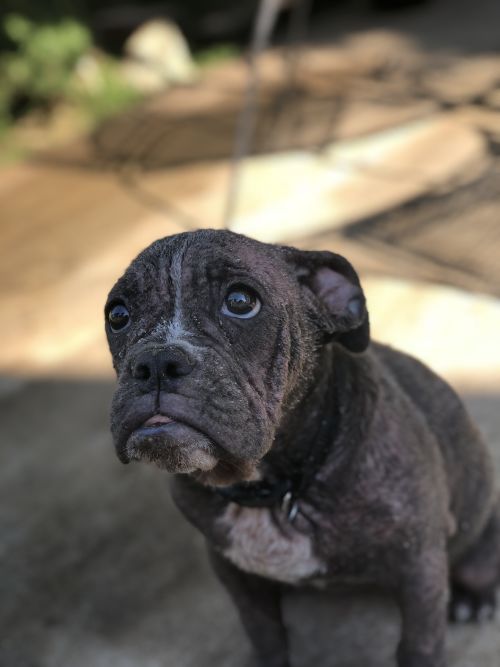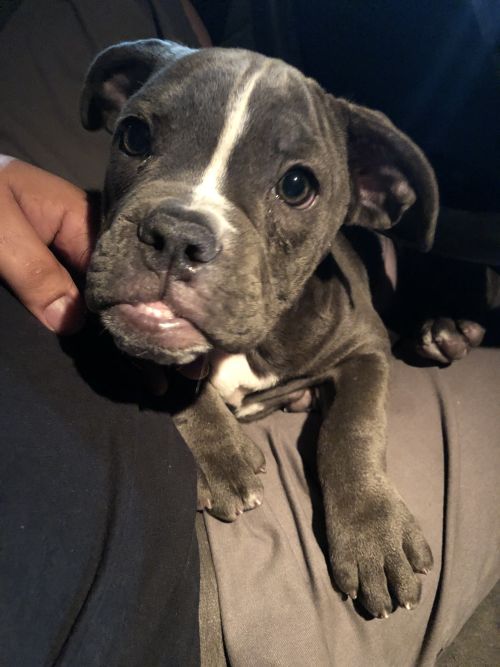 Replied by Theresa
Mpls., Mn
08/31/2018

---
Posted by Ellise (Canada) on 07/16/2018

Hello,
My 2 year old Staffy has had mange for about 3 months now, she is losing hair all over her body in little amounts. I started the Borax Mange Remedy treatment last week, and so far, she's been much calmer, and scratches less. The only thing that I have noticed is that it seems like her skin is very dry, and she's seemingly losing more hair (could it be because of the frequent use of shampoo?) after her baths.
Do I have to shampoo her EVERY time I do the treatment? Let me know! Thank you.
Replied by Kinga
Tinley Park, Il
07/17/2018

Replied by Rose
Fowler, Ca
07/24/2018

Replied by Theresa
Mpls., Mn
07/26/2018

---
Posted by Meredith J. (Louisiana) on 06/27/2018 1 posts

When we got Loki he had a few tiny red bumps on his belly and he had a faint odor. We automatically thought fleas and he needed a bath. We gave him a bath in Dawn and picked a few fleas but not many and the odor returned a few hours later. As the days rolled by the bumps got worse and became rough. Loki's odor became more pungent and he started itching a lot. Found out that Loki had mange. I came across Ted's Remedy!!! Very affordable, convenient, easy and our pup loved the frequent attention from both of his fav peeps. This really works. Thanks.
---
Posted by Josie (Manalapan) on 06/19/2018

Borax, HydroPerxide, Water solution:
Bye Bye expensive sprays, shampoos, and ointment. This is all I need to treat my mini French poodle baby. On the very first day of treatment - I noticed a big improvement. I wonder why none of her vets (she had three and no one ever made her condition any better) did not recommend this formula. It's been three weeks and the itching, watery eyes, bad temper - all gone. She is happy!! I am happy too!!
---
Posted by Jax (Sanford, Nc) on 06/16/2018

This is a great site. I just discovered you by accident. I have every bug on earth here, snakes, poison oak/poison ivy. My poor animals have been getting mange for the first time. My pigs got it and one dog it because she kept laying in the mite fabric the pigs laid in. I had it in plastic bags off the floor to take to laundromat. I have been bathing her in a tea-tree/oatmeal shampoo.
---
Posted by Nikki (Austin, Tx) on 06/12/2018

Hi,
I have a 10 week old Border Collie with Demodectic mange on her face. We have been applying the borax hydrogen peroxide mixture every other day this past week and just finished her fourth treatment. After the second treatment it seemed to be getting worse. She started getting face bumps all over her face. They are now swollen and bleeding. I read that it was due to the mites dying and causing an infection under the skin. Is this normal? Should I continue with the same course of action?
Here are the instructions for mixture we have been using. Everything has been completely dissolved before to her body: Add 3 heaping tablespoons borax to a clean bucket. Add 2 cups of hot water. Stir vigorously with your hand to dissolve all the borax granules. Add 2 cups of warm water. Mix again. Add 2 cups of 3% hydrogen peroxide. Mix well.
Thanks for your help.
Replied by Theresa
Mpls., Mn
06/12/2018

Replied by Nikki
Austin, Tx
06/13/2018

Replied by Theresa
Mpls., Mn
06/14/2018

---
Posted by Harry (Yorkshire, Uk) on 02/21/2018

I have sort of used this method twice....
H2O2 is easy to get hold of, from the chemists in the UK, but the Borax less so...
First time, the male border collie had mange type hair loss and scabbing to the side of his rear leg, the large muscle area. I didn't bath him and couldn't track down any Borax, just the substitute, so I just diluted H2O2 and put that in a spray bottle. I wasn't expecting much without the Borax, but provided near immediate and it cleared up within a week. I kept on just spraying daily for 10 days.
For the past two weeks, his younger sister has been chewing at her front legs, hair loss and beginning to bleed and scab, gradually getting worse for her. This time I managed to get hold of some 20 Mule Team Borax, it arrived 1 days ago, so I made it up roughly as described - except I put in in a spray bottle. I gave her a good bath, let her shake and drip, then sprayed her thoroughly and left her somewhere warm to dry. I have sprayed her daily since, but concentrating mainly on the two affected front legs. The crisis seems to be almost over, scabs going and hair returning. It has though left her hair generally looking very dry, so I may need to address that, once the treatment stops.
Replied by Nicole
Boston
04/29/2018

Replied by Theresa
Mpls., Mn
05/01/2018

Replied by Sue
Michigan
05/02/2018

Replied by Connie
Florida
05/21/2018

Replied by Didi's Mom
Usa
06/07/2018

Replied by Chucklesm
Sw Us
12/30/2018

---
Posted by Steve (Trenton, Nj) on 02/20/2018

One day after the first washing and treatment with Ted's remedies, our dog is already seeing some relief.
Because of the mites, do we need to do something to our carpeting or our dogs beds which have a removable cover?
Thank you so much!
---
Posted by Kirk1969 (New Prague, Mn) on 12/12/2017

Ted's remedy for sarcoptic mange (hydrogen peroxide/borax/h2o)
Rescue puppy foster (received at 4 weeks) - had him for 4 days before I knew about the mange. Too young for ivermectin treatment, he has had lime-sulphur dip twice (if you are using this, buy some spray bottles it is much easier than 'dipping' a dog) but continued scratching/losing a ton of hair. He is pretty much hairless on his face (he is now 6 wks) and patches of hair elsewhere. I also have used an antiparasitic shampoo, which did not seem to help much.
Since using Ted's remedy I am not sure if his hair is growing back but he is scratching far less. I really hope his hair grows back and that my 3 older dogs don't get mange. I am also using Ted's remedy in the house (spraying on dog beds, floors, etc.).
Replied by Theresa
Mpls., Mn
12/13/2017

---
Posted by Pauline (Scotland ) on 11/29/2017

Hi, we think our dog might have sarcoptic mange, we have used the borax remedy and it seemed to keep them at bay but her coat was starting to get really brittle so I stopped that treatment to give my poor baby a rest and started using neem oil shampoo which didn't work.
At the moment I'm using a mix of rapeseed oil and diatomaceous earth on her but she has all of a sudden got supper a canny on the parts where she still has hair, could it be the other mange she has? Any help would be appreciated.
P.s I've also tried using vegetable oil on her too, didn't work
Replied by Theresa
Mpls., Mn
11/30/2017

Replied by Wendy
Portland, Or
03/02/2018

---
Posted by Nancy (Houston, Tx) on 10/25/2017

i found a stray dog and she had mange so bad. I just did a mange treatment on her the other day. She is not scratching as bad. Going to do another one tonight. One question I have will can Lysol Disinfectant kill any mites that might be in her crate? If Not, then what can I use to spray any where she has gone?
Replied by Theresa
Mpls., Mn
10/25/2017

Replied by Nancy
Houston
10/26/2017

Replied by Theresa
Mpls., Mn
10/27/2017

Replied by Maria
Kenya
11/16/2017

Replied by Theresa
Mpls., Mn
11/17/2017

Replied by Maria
Kenya
11/20/2017

---
Posted by Jlefebre (Sacramento) on 10/22/2017

Thank you so much for this mange formula. I believed my dog to have mange but could not afford the vet visits and medication so I had been looking on the internet for a possible solution. It seemed like such a scary problem and she was scratching so much, loosing hair, could not sleep and lost weight.This has worked and has worked so well! My dogs hair has grown back and she is not scratching all the time. She is so much happier and has put some weight back on. She is back to being happy and healthy and we are happy and appreciative too. Give this a try!
---
Posted by Sharon (Greenville, South Carolina) on 08/03/2017

My lab mix got a spot on her shoulder, and one under her leg. We took her to the vet, they did a mite scrape but it came back negative. A week later, and the spots have gotten worse with new ones starting to appear. We tried the apple cider vinegar remedy at first, but it wasn't appearing to do anything. Then we tried Ted's cure and her hair started growing back! This mix really is working. Her hair is mostly/all grown back after about 6 weeks!
Replied by Stephanie
Texas
08/11/2017

Replied by Theresa
Mpls., Mn
08/14/2017

Replied by Patricia
Ga
08/20/2017

Replied by Theresa
Mpls., Mn
08/21/2017

Replied by Ron
Ontario
09/04/2017

Replied by Skip
Sturgeon Lake, Mn.
09/05/2017

Replied by Theresa
Mpls., Mn
09/06/2017

Replied by Jackie
St. Louis
09/14/2017

Replied by Theresa
Mpls., Mn
09/15/2017

Replied by Debbie
Va Beach, Va
09/17/2017
Replied by Laura
Lawton, Ok
09/19/2017

Replied by Nell
Greensboro
10/11/2017

Replied by Dorothy
San Diego
07/20/2018

Replied by Theresa
Mpls., Mn
07/23/2018

Replied by Theresa
Mpls., Mn
07/23/2018

Replied by Dorothy
Ca
07/28/2018

---
Posted by Pam (Texas) on 07/30/2017

I used this on our Min Schnauzer mix. He had lost his hair in places, had a horrible yeast smell and ear irritation. The vet said he was allergic to Chicken and prescribed expensive medicines. We have tried dog food without chicken, tried Coconut oil, and everything we could think of. NOTHING HELPED until I tried your remedy.
We followed the directions to a T. Bathed him twice a week for the first 2 weeks and noticed a difference after the 2nd bath. He actually felt better. He still itched and had red spots but we saw improvement. After about 3 weeks I noticed his hair was growing back on his chest.
We continued through the 8 weeks. He looks great. His coat is thick and shinny and he feels great. He's more active and doesn't have that horrible yeast smell any longer.
Replied by Carrie
Kelowna
08/02/2017

---